Enhance the power of your Smile: Affordable Implant-supported Removable Denture
For patients who have no teeth in one or both jaws, removable dentures are the most popular replacement option because they are the most economical. However, not everyone is a fan of these traditional dentures because there are often problems with retention, especially with lower dentures that can easily become dislodged by the tongue. To avoid the potentially embarrassing situation of a denture slipping out when eating or speaking, a more permanent, successful, and affordable option exists-the Implant-supported Removable Denture.
How does the Implant support Removable Denture work?
For persons with a single missing tooth, an implant is the best option as well as the standard of care in today's dentistry for tooth replacement. However, in cases where a person has no teeth, it is not economically feasible to replace every missing tooth with a dental implant. Instead, a minimum of two (2) dental implants can be used in the lower jaw to support your removable denture and provide a prosthesis that fully restores stability and function without breaking the bank.
Dental implants are small titanium posts (similar to artificial root) that anchor the replacement tooth/denture to your jawbone. Since titanium is biocompatible it will fuse with the jawbone (while preserving the volume and density of the bone, compared to removable dentures that often result in bone resorption) and provide a firm base of attachment for the denture. This means that the denture won't slip out or become loose and you can eat and talk without fear. Best of all, an implant-supported denture can be removed daily for oral hygiene and maintenance.
Although only two implants are usually required to support a lower denture, every individual case is unique, and the number of implants required may vary, for example, upper dentures typically usually require a minimum of four implants. Still, this is a lot more affordable than using multiple implants to restore your smile and ensures that you have peace of mind (no embarrassing moment here), which is priceless when you think about it.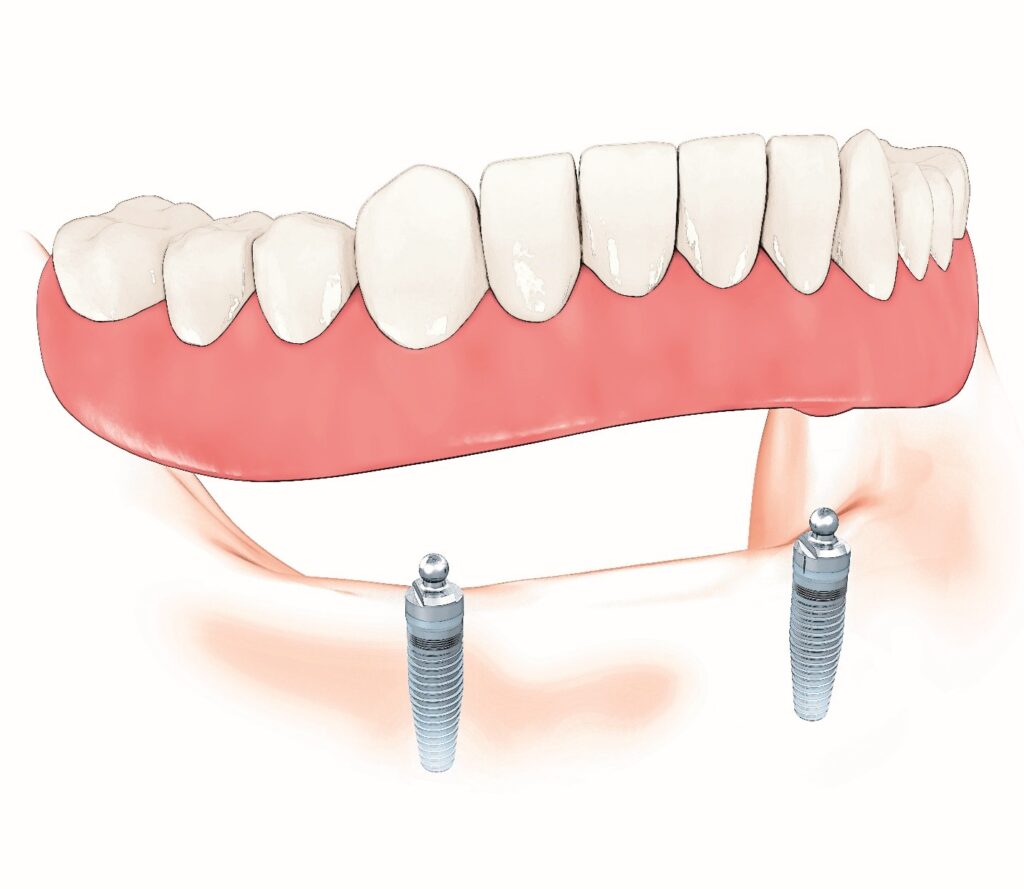 Getting an Implant-supported Removable Denture
Implant surgery is simple and often carried out under local anesthesia. By placing implants at angles, support is maximized and certain anatomical structures such as the maxillary sinus or nerves can be avoided. Though it takes about 4-6 months for osseointegration to occur, a temporary denture can be worn during the healing process so that you won't be without teeth.
With the overall long-term survival rate of implant-supported overdentures being 95.3%, they represent an excellent treatment option for any patient seeking a reliable replacement option that is also affordable.
While Implant dentistry seems to be The GOLDEN STANDARD for replacement of missing tooth /teeth, it's extremely important to discuss all possible treatment scenarios with your dentist and choose the best that fits your need and expectation.
Moreover, it's quite important to find a dental office that offers various combinations of implant surgeries and denture restorations in-house on affordable cost. This will; without any doubt; save you significant amount of money that you would have spent shuttling between offices.
Finally; it's our genuine believe that restoring your smile and confidence without breaking the bank should be within your reach and reflect the unique value that you; as human being;  represents.
---
The content on this blog is not intended to be a substitute for professional medical and dental advice, diagnosis, or treatment. Always seek the advice of qualified health providers with questions you may have regarding medical and dental advice/conditions.